Learn more, and design for, The 5 Moments of Learning Need with your co-hosts Bob Mosher and Dr. Conrad Gottfredson. This series will help you to better understand the theory and best practices behind this powerful methodology. Episodes will be released bi-weekly, follow us here or wherever you listen to your podcasts for the latest episodes. Visit www.5momentsofneed.com for more resources and connect with us on LinkedIn at https://www.linkedin.com/company/5-moments-of-need/.
Episodes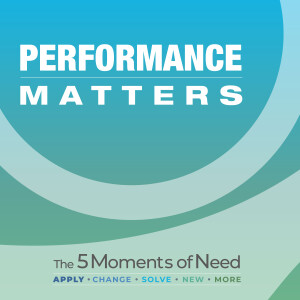 Monday May 09, 2022
Monday May 09, 2022
This episode takes a deep dive into the technology ecosystems needed to implement workflow learning using The 5 Moments of Need framework.
Host, Conrad Gottfredson, along with his guests, Carol Stroud and Sue Reber, walk you through content and maintenance, delivery and optimization, and then tracking, measuring and reporting--all in relation to technology. Download and Listen Now!
For more 5 Moments of Need resources visit our website, join the conversation, download our ebook, and subscribe to this podcast so as not to miss a single episode.
Copyright © 2022 by APPLY Synergies, LLC |
All Rights Reserved.