Learn more, and design for, The 5 Moments of Learning Need with your co-hosts Bob Mosher and Dr. Conrad Gottfredson. This series will help you to better understand the theory and best practices behind this powerful methodology. Episodes will be released bi-weekly, follow us here or wherever you listen to your podcasts for the latest episodes. Visit www.5momentsofneed.com for more resources and connect with us on LinkedIn at https://www.linkedin.com/company/5-moments-of-need/.
Episodes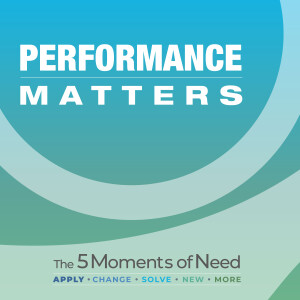 Thursday Dec 03, 2020
Thursday Dec 03, 2020
Host Bob Mosher discusses specific trends we're hearing, seeing, and experiencing in our current, and ever-evolving, professional landscape.
This episode specifically walks through the changes we've seen, and are seeing, in terms of: design and delivery, learning impact, budgets, the learning field's larger role, and of course the shifts in the learners themselves. 
Listen to hear more on how you can meet your organization where it needs you, on the front lines of ensuring performance comes first and foremost.
For more 5 Moments of Need resources visit our website, join the conversation, and subscribe to this podcast so as not to miss a single episode.
For a deeper dive with actionable outcomes, join us at The 5 Moments of Need Summit.
Copyright © 2022 by APPLY Synergies, LLC |
All Rights Reserved.